This company has no active jobs
About Us
Maintenance
An on-site Scania workshop is available where regular maintenance is performed on all components. A second fully-equipped workshop on-site where semi-skilled and qualified technicians ensure that vehicles and trailers are kept in a good condition. We pride ourselves on clean trucks that are in a good condition. Vehicles are frequently washed and fumigated to ensure sanitary conditions. Roadside assistance vehicles and on-call technicians help to prevent prolonged downtime on our trucks in the event of a breakdown.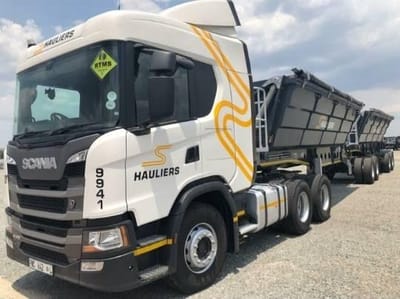 S HAULERS COMPANY is your one-stop agricultural and transport service specialising in bulk haulage and providing a unique one-stop service to the agricultural industry.
Established on 12 July 2018 by Bruyn this company strives to offer a professional and efficient service that meets all our clients' transportation and agricultural requirements.
Steelpoort, South Africa
P. O Box 1133
We like to invite EC Drivers (code 14) to S HAULIERS COMPANY on the following Time:07:00-12:30 NB: Your welcome to come only if you have ●Code14 ●PDP ● 3 years Experience ●No Criminal Records You must know this 25cub tipper backtipper. walking floor taughtliner flat deck lowbed Forward your Applications Form & CV to More information Ask MAMPURU Tell 013 516 0459
We like to invite  EC Drivers (code 14)  to S HAULIERS COMPANY  on the following
20 Novermber 2020
Time:07:00-12:30
NB: Your welcome to come only if you have
●Code14
●PDP
● 3 years Experience
●No Criminal Records
You must know this
25cub tipper
backtipper.
walking floor
taughtliner
flat deck
lowbed
Forward your Applications Form & CV to
More information Ask MAMPURU
Tell 013 516 0459
We like to invite  EC Drivers (code 14)  to S HAULIERS COMPANY  on the following
15 January 2021
Time:07:00-12:30
NB: Your welcome to come only if you have
●Code14
●PDP
● 3 years Experience
●No Criminal Records
You must know this
25cub tipper
backtipper.
walking floor
taughtliner
flat deck
lowbed
Apply online by clicking the link below
https://5faeebe4e000d.site123.me
Forward your Applications Form & CV to
More information Ask Mohlala
Tell 013 516 0459
Cell 076 389 5410
TESTING – Steelpoort, 1133, South Africa – 37583848
S HAULIERS
Will be testing on the following week
22 February 2021
Time 07:30
23 February 2021
Time 07:30
Cutting time 09:00
Interviews will completed in the company
�Grootboom Farm, Steelpoort, 1133
🌏http://5faeebe4e000d.site123.me/
Interested candidate must forward their application in The following email address
*(shualiers@outlook.com)*
REQUIREMENTS
• 5years Experience
• Be Able to reverse a superlink trailer
• Proven work experience as a truck driver
• Valid PDP
• Ability to drive long hours and travel regularly
• Extensive knowledge of applicable truck driving rules and regulations
• No recent moving or driving violations
• Grade 10 school certificate
• None Criminal Records
More information about this position ASK TM MAMPURU
☎️013 516 0459
📞 076 389 5410
NB:WE TESTED AFTER INTERVIEWS
GOOD LUCK WITH YOUR INTERVIEWS AND TESTING